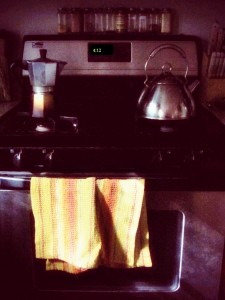 It's the middle of the night and I'm slowly brought to wakefulness by…something. I lay there for a minute in the haze and listen.
There it goes again.
Dripping. Not rain, though…something different, and the effort to ignore it is only waking me up further. I roll out of bed and find the source – the shower head is still running in a drizzle, even though it's turned off. Weird.
I turn it on a little and then shut it off again, and it eventually stops. It's 4am and I fall back into bed.
Wide awake.
Now my brain is dripping even though it's supposed to be turned off. I've had two hours of sleep.
So I start to pray. God plays this trick on me often, and I know it's not just me because many of you have told me He does the same thing to you. He wakes us up in the middle of the night – He lets something wake us up in the middle of the night – because someone needs prayer, right then. For that moment, for the day ahead, for the day they just struggled through.
And so I pray randomly at first, general things…our country, our government, our kids, our town…and it's not long before He brings something to mind that's specific.
And then I stall, hesitating…and because I am completely selfless and sacrificial I tell Him, "God, I don't want to pray for that. It will just frustrate me, and I'm trying to get back to sleep."
Nope, lightning doesn't strike me.
Instead, He says this:
That, Love, is because you're doing it wrong.
Oh.
And because He is (really) totally selfless and sacrificial (and also not tired) He explains to me.
You've forgotten to pray from victory to victory, He says.
You go from glory to glory, even if the middle place is frustrating, because then you can pray from joy.
You can pray from a place of victory to a new place of even greater victory…because I've already won.
And then we pray. From joy.
Hope comes. Mountains move, the dripping stops, and I fall back to sleep.

*This is day two of the Wait and Listen series. The other posts are here.