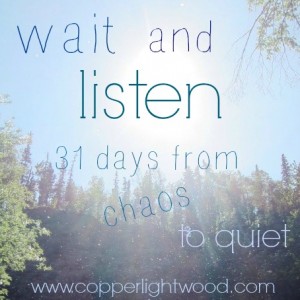 I'm not sure where this is leading. I have no agenda, no outline, nothing really planned out. Just a few drafts and scribbles.
What I do know is that in the wild day-to-day ruckus of child-rearing, homeschooling, home-keeping, and joy-seeking, this is what I need. Daily. More than chocolate, more than chai tea, more than a good Dickens book, even more than…
(gasp!)
…coffee. I know.
So I'm planning to be here – with coffee – this month, doing just that…daily. I expect Him to show up just as often, because without Him, I have no words.
Every time I sit down with a blank document, He surprises me…because He speaks when we wait and listen.
This month, I expect to be surprised often. I hope you'll join us.
The link for each post in the series will be added to this page as they go live every day. You can come back and visit, or just subscribe and each post will come right to you, in your inbox.
He wants this from us on a daily, hourly, minute-ly basis – no agenda but His, and a willingness for Him to surprise us.
Open hands, empty paper.
He longs to fill both.

day 2: from joy
day 3: like strong coffee
day 4: mountains to the sea
day 5: to be excused
day 6: from floor to ceiling
day 7: in writing
day 8: threshold
day 9: hold it high
day 10: worth a King's ransom
day 11: only the wind
day 12: no soliciting
day 13: aim and fire
day 14: at the water's edge
day 15: more than numbers
day 16: anytime, anyplace
day 17: in the dark
day 18: the letters go everywhere
day 19: hitting the wall
day 20: wild poetry
day 21: surprise
day 22: for us, for others
day 23: revelation
day 24: what is true
day 25: better than chocolate
day 26: don't miss this
day 27: to defy clamor
day 28: a force to be reckoned with
day 29: brains, strength, steel
day 30: this time
day 31: what lies ahead