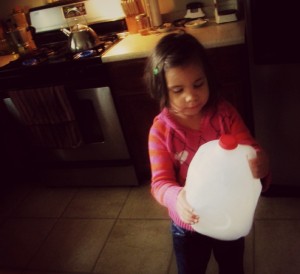 There's this little area of our kitchen that I'm going to tell you about. I could show you a picture, but it's just too gruesome and would probably traumatize you. So I'll  describe it because I'm sure your own kitchen is spotless and you've never even thought of the possibility of this remotely existing in your house.
It's the space between the stovetop and the counter. On both sides of the stove, there is this little bitty crack, just a millimeter or two wide. You know the spot?
Imagine every ingredient that ever existed in our kitchen, in varying amounts from mere crumbs to several tablespoons, being forcibly crammed into it. And then left to ferment. Oh, yes.
I take the sponge and wipe over it daily, which is excellent for cleaning the surface around it but probably only serves to send more debris into the abyss. The only way to clean it out is to go in there.
NOOOO!!! (insert freaky violin music) You can't make me!!
Maybe we can talk Vince into it, instead.
There's another area of our house I'm going to tell you about. We have a small bathroom, and it's equipped with a light switch and perfectly good light bulbs. There is a little girl sitting on the floor of the bathroom, in the dark, refusing to…wait for it…turn on the light.
Weren't we doing this two weeks ago with something else?
Children in orphanages have been conditioned to get more attention from caregivers when they appear helpless: the more independent children in an institutional environment are, the less attention they receive. Some post-institutionalized children have deeply internalized this behavior and manage to appeal to a wide audience with demonstrated helplessness.

This behavior has also been observed in abused children, who would rather have negative reinforcement than no attention at all.
She doesn't have to sit in the dark. She has everything she needs to stand up and turn on the switch and move on with her day. It's learned helplessness combined with a medley of other attachment issues. If she could pretend she didn't know how to breathe, I think she might try it.
Jesus. What the heck?! Why does she do this?
Imagine every ingredient of neglect and abuse that ever existed in the first six and a half years of her life, being forcibly crammed into her. And left to ferment.
Oh.
You have to go in there with her. Join her in the dark place and shine light into it.
I open the cracked door, and she squints. I squat down in front of her, and she flinches. She's been here over a year and still she flinches. Not as often, but she still does it. She knows she's disobeying and she remembers being hit for it.
It would take less than 1 second for me to flip the switch on for her and then we could move on, but that would only serve to wipe more debris into the abyss. People did that for over six years, and clearly it did not help her, though I'm sure it seemed more convenient at the time, every time.
I can't even walk her through the motions. She knows what the motions are. She must actually decide to make the move herself.
Many of these children actually have the needed skills or knowledge, but are resistant to any attempt to encourage them to act independently…

It can be open defiance or hidden sabotage, but it is rooted in their overwhelming need to be always in control, to be on known and manageable "turf." This is an obstacle in their learning: to be a good learner means to take risks, to step into unknown territory, to be sure of one's own ability to cope, and to be prepared to accept help.
I hold her for a while and then leave her to sit on the bathroom floor so I can make dinner.
Spaghetti and meatballs. Homemade sauce from scratch, piece of cake.
Hey Love, He says. Remember when you were in college, and didn't even know how to make coffee?
Yeah. I couldn't make anything that didn't come out of a box or a can. Are You rubbing it in?
Remember when you were too intimidated to try making bread? Remember when knitting seemed too difficult?
I have no idea where He's going here, but I'm paying attention.
Remember when you'd never read Jane Austen, and then you struggled though Sense and Sensibility? Remember when you knitted that first baby sweater? And do you remember a few months ago, when you tackled HTML and WordPress and fought until 3 am to convert this whole thing over? 
"To be a good learner means to take risks, to step into unknown territory, to be sure of one's own ability to cope, and to be prepared to accept help…"
It took me another hour to figure out how to fix the keyboard.
You stopped being afraid of the unknown and the newness. You got tired of sitting in the dark.
I feel like I've spent most of my life overcoming unknowns. Ridiculous intimidations. Big and small fears, both real and non-existent. 
Yes, you have.
That's why I chose you to be her mother.

*This is day seventeen of the Wait and Listen series. The other posts are here.