You've probably heard of this guy, Maewyn Succat.
No? Trust me. You've probably celebrated him, even. Here's a hint: shamrocks, green clothing, beer. Well, maybe green beer. He has a holiday named after him, often involving green beer.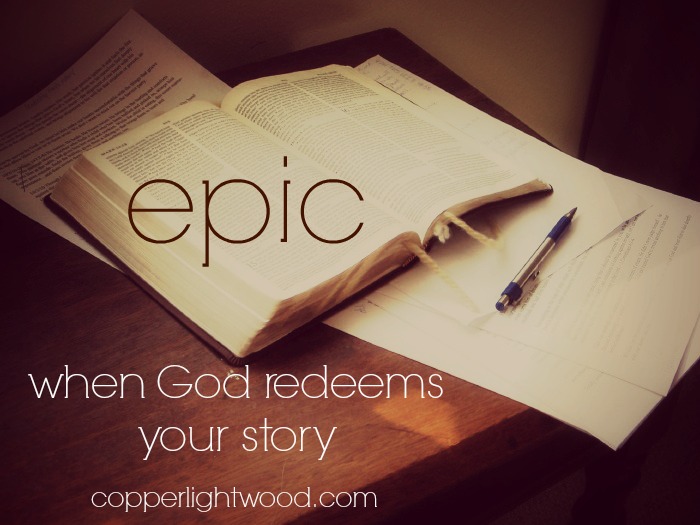 See, I told you. We know him as St. Patrick. But his story — most of us don't know what happened to make a kid named Maewyn Succat become a saint named Patrick. It's worth knowing, though.
St. Patrick was a Roman Briton of good family dwelling probably in the Severn valley. His father was a Christian deacon, a Roman citizen, and a member of the municipal council. One day in the early fifth century there descended on the district a band of Irish raiders, burning and slaying.

– Winston Churchill, The Birth of Britain
It was terror. The enemy was up to no good. It's an awful part of our history.
The young Patrick was carried off and sold into slavery —
It gets worse and worse. But I didn't give you the rest of the sentence, and the last two words reveal much about the rest of the story:
The young Patrick was carried off and sold into slavery in Ireland.
And we know that God was up to something, too. Regardless of what the enemy was trying to destroy, God was doing what He always does – creating redemption in an all-things-for-good, beauty-for-ashes, Romans 8:28, epic kind of way. In between the kid and the saint, God was hovering over: protecting, watching, guiding. Taking every attack from the enemy and turning it on its head, He was making history through this young man.
For six years…he tended swine, and loneliness led him to seek comfort in religion. He was led by miraculous promptings to attempt escape.

Although many miles separated him from the sea he made his way to a port, found a ship, and persuaded the captain to take him on board.

After many wanderings we find him in one of the small islands off Marseilles, then a centre of the new monastic movement spreading westward from the Eastern Mediterranean…

He conceived an earnest desire to return good for evil and spread the tidings he had learned among his former captors in Ireland.

– Winston Churchill
He didn't just sail back to Ireland immediately, though. He obeyed, waited, and let God mold him into the saint that would save a nation.
After fourteen years of careful training by the Bishop and self-preparation for what must have seemed a forlorn adventure, Patrick sailed back in 432 to the wild regions which he had quitted. His success was speedy and undying.

– Winston Churchill
Some of you are fighting discouragement over terrible attack, an awful history, or an uncertain future. The man we now know as Saint Patrick endured all of those. The enemy can try to spin a plot twist, but God writes the best stories for those who let Him.
Now I rejoice in my sufferings for your sake, and in my flesh I am filling up what is lacking in Christ's afflictions for the sake of his body, that is, the church, of which I became a minister according to the stewardship from God that was given to me for you, to make the word of God fully known, the mystery hidden for ages and generations but now revealed to his saints. To them God chose to make known how great among the Gentiles are the riches of the glory of this mystery, which is Christ in you, the hope of glory. Him we proclaim, warning everyone and teaching everyone with all wisdom, that we may present everyone mature in Christ.

– Colossians 1:24-28
There is nothing He can't do with a person who trusts Him utterly — unflinching in obedience, uncowed by the enemy, unchained to the comfort zone, and unhindered by society's expectations.
The world does not need super-men, but supernatural men. Men who will persistently turn the self out of their lives and let Divine Power work through them.

– God Calling, edited by A.J. Russell
Jesus, I'm praying tonight for all of us in the middle of the story, between a rock and a hard place, not sure how this thing ends. I pray for encouragement that breeds an increase of faith in each of us.
God isn't done with you yet. He is hovering over you: protecting, watching, guiding, and taking every attack from the enemy and turning it on its head.
Prepare for something epic. It will be the story of your life.

This is day 29 of Without Ceasing: 31 Days of Relentless Prayer. Find the other posts here. To get new posts right in your inbox, subscribe here.