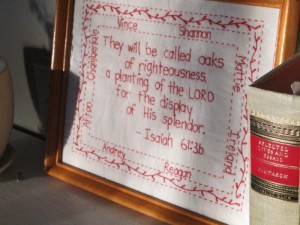 Act 3. The curtain rises. It is months later.
It is a hard day, and I'm holding a fighting boy who is mad at the world.
He's mad at his choices, mad at his consequences, and especially mad at his mama for not letting him drive through the fence. (see part 1 here)
I look into dark eyes and tell him not to fight me because I am on his side, and when he fights me, he fights against himself…and he is the one that loses. (see part 2 here)
RAD is so bizarre and parenting them is so backward in many ways. It really is an experience where you learn about God's love for us though, because it is often years of loving them with no love in return. If other adults give them attention, it only makes it worse and prevents them from attaching to the parents longer. So many parents, though, feel so judged as they try to parent these kids.

In order to parent them effectively you have to quit caring about what others may think and care only about what is best for the child. Hard to do as a first time RAD parent and I think why so many disrupt. Hard enough to have your child not love you, but then to have others judging you too is just too much for many. I try to remind people that if the child is "reacting" then it is because they are "attaching" even if you aren't seeing it and feeling it. If they didn't feel themselves wanting to get close to you then there wouldn't be so many behaviors.
We make it to lunchtime.
It's a treat for most of us on this day because we have veggie sushi. I know Andrey and Reagan don't like it, though, and there's just enough cucumber in the fridge to make an alternate meal for them – tarator, a traditional Bulgarian cold soup that they love. I don't usually accommodate with options, but we need to use the ingredients up anyway and it sounds good to me. Perfect.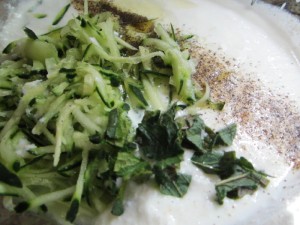 I'm grating cucumber. "I don't like sushi," Andrey announces from the table, amid cheers from the other kids who love it.
"I know. I'm making tarator for you and me and Reagan."
I finish grating the cucumber and start chopping mint leaves (not sure if these are traditional, but I like them).
"I don't like soup. I want sushi." I mix in yogurt, drizzle in olive oil.
"I want sushi." Sprinkle salt and pepper. I'm getting tired of these announcements and make one of my own.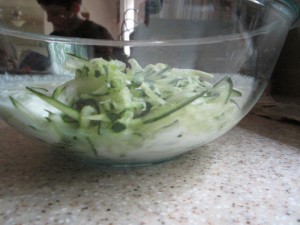 "Today I'm not going to feed you food that you complain about. If you complain about something, you will not get it, whether you change your mind or not."
Silence. I can hear him coming to a realization. The wheels are turning.
I arrange seven dishes. Sushi for four kids, tarator for Reagan and myself. Bread and apples for everyone.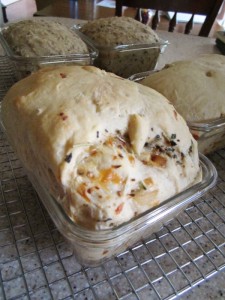 Bread and apples for Andrey. And he says nothing, but his mind is learning. Those wheels are still turning, and he's trying to decide if he wants to steer down the straight and narrow, or try driving through the fence.
Someone asks for tea, and I start pouring.
"I don't like tea," he announces.
"That's okay, you have a water bottle."
A few minutes pass. We have prayed and we are eating. We are happy…six of us, at least.
"May I pwease have tea?" he asks aloud. But what he is really asking is, Did you mean what you said when you said I couldn't have something I complain about? Or can I get you to let me get away with pushing the rules?
Can I set a moving target?
And the answer is no. No, no, and no. "You have a water bottle," I remind him. Remember to smile, mama.
"I don't like my water bottle." And then he gets a look on his face that clearly says, Oh, crap.
And he is learning what I want to teach him, instead of the other way around. We have set a boundary and he is learning to respect it. To respect others. To respect himself.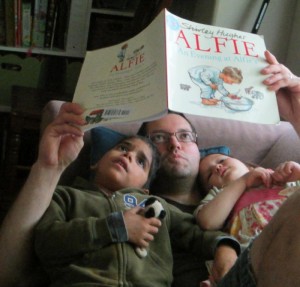 We know there's progress. There has to be. If they didn't feel themselves wanting to get close to you, there wouldn't be so many behaviors. But it doesn't feel like it when we've hit our one-year anniversary and both kiddos seem to be regressing in one form or another.
What we're doing must be working to some degree because they are rejecting it. Sincerity pushes them out of their comfort zone, and a year into this, suddenly basic routines are out the window and met with defiance.
Not asking to be excused at meals. Not asking to have a chore checked. Not flushing the toilet (so help me) without being reminded.
It's a game that's not fun for anyone.  The reminder isn't necessary.
Patience is. Also, liquor.
Just kidding.
Maybe.
The lunch scene replays itself shortly after our one year anniversary. Sushi for some of the kids, tarator for others.
"Oh! Yummy sushi! I wike sushi! I wike soup, too!"
Well. You don't say.
We don't want to over-prune, and neither can we under-prune. We must prune with a purpose, working toward the vision of a thriving life that will bear much fruit.
It's hard to walk the line every day. We're not heroes. We continue to covet your prayers…and your occasional gifts of coffee and chocolate.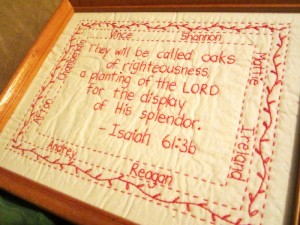 May adoptive families find encouragement, healing, and grace as they walk the line throughout their community, in all of their days. The victory is here.
End of Act 3. Curtain closes.