We knew the tether that held us to it was thinning when we started calling it "the old house" instead of "home."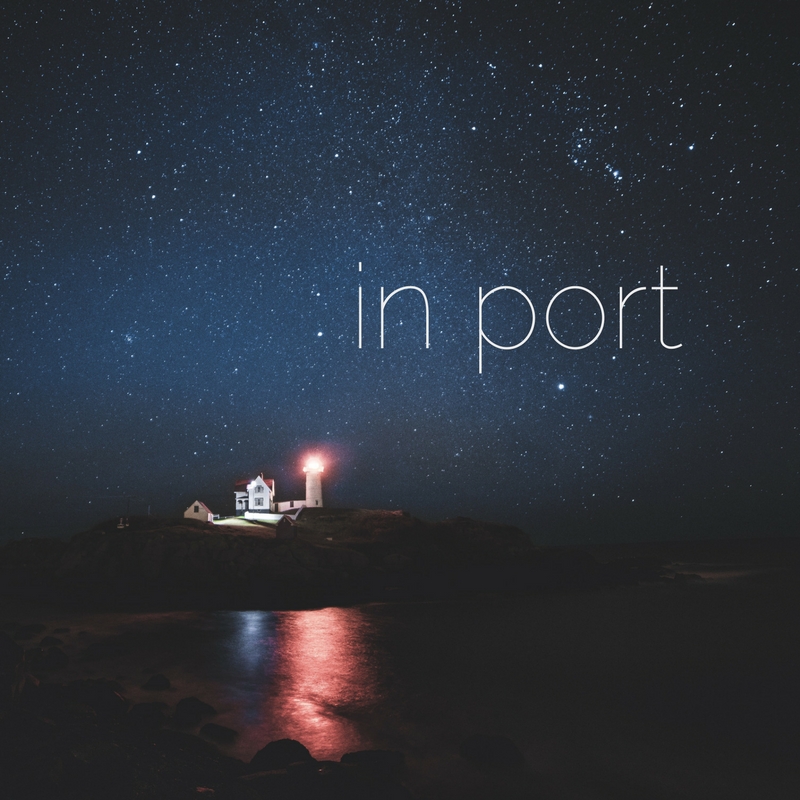 We ate weird meals in attempt to clean out the fridge and freezer until we started sleeping at our new place. One day I served biscuits and gravy, which sounds normal except that the biscuits were actually English muffins and I served them with a side of lettuce (I mean, salad) and the last tablespoon of some balsamic dressing from the 1940s.
That night I wandered through the kitchen looking for dinner, but I'd already fed the kids all the leftovers, I didn't want to cook, didn't want to scramble up a couple of eggs, and didn't want to eat the last of the stale bag of tortilla chips. So I took one for the team, and dove into the vanilla ice cream and topped it with cranberry syrup.
The walls were bare and our voices echoed. We touched up paint and trim, using a wood stain marker over every scratch we've made over the last ten years in attempt to conceal the fact that we've had enough children here to populate Gilligan's Island.
The highest concentration of scratches was on the corner cabinet by the lazy Susan, where Sophie used to paw when we were slicing meat for sandwiches, cooking burgers, or carving the turkey. I cried covering them; her grave is in the woods over there, and I grieved over leaving it more than anything else.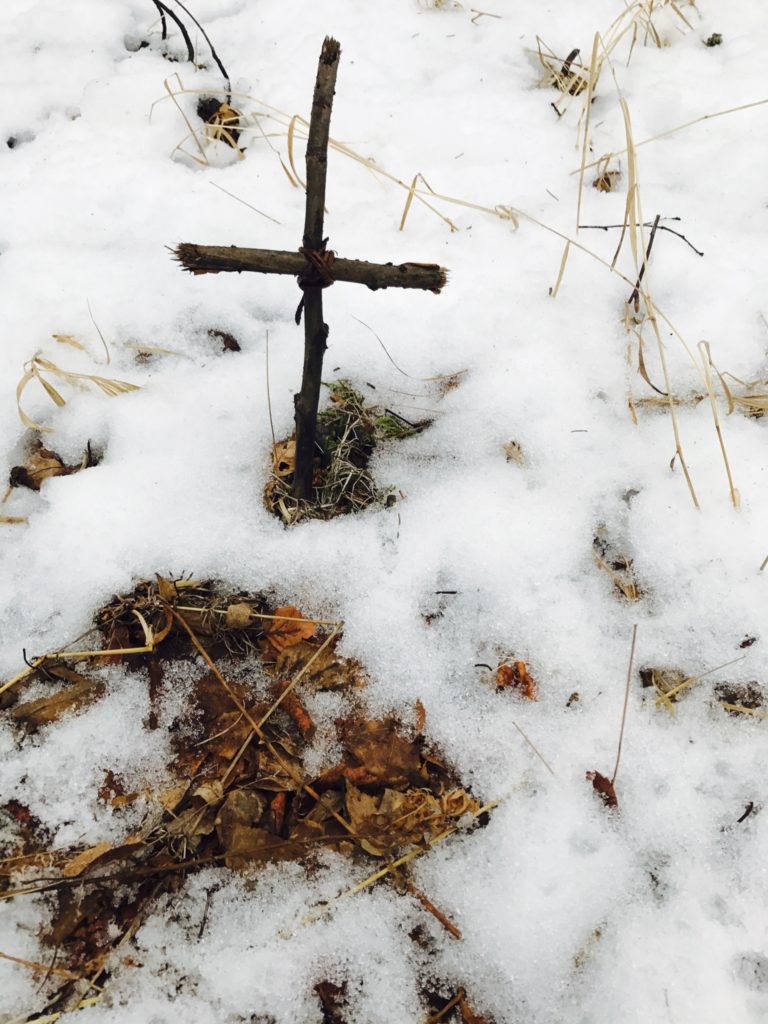 I moved to the stairs and worked my way up that railing with the stain marker, covering pale spots where the wood was exposed, trying to make them blend and look new again. We put on a lot of miles here in ten years.
It's a beautiful house, but it's been loved and lived in, and we hope the new owners appreciate it – not just the work we did to prepare it for them, but that they appreciate the home that's been made here and continue that legacy. I hope they know the wear and tear are from living life, and they will have many years of adding their own dings and scratches.
Iree said she hopes the people who bought the house have kids so the woods, trails, and clearings will still be played in, instead of growing over neglected. And I hope the owners of our new house – wherever that is – feel the same way.
I hope they're being good stewards, cleaning up, touching up, praying for us. I hope they love their house and have similar mixed feelings about leaving it. I hope they'll want us to love it there.
Maybe houses are like people: As children, those of us who have learned attachment early are able to attach in healthy ways later, and maybe a house that has been loved-in by one family is increasingly able to be loved-in by another family.
During our last week there I was mostly on an even keel, but at times out of nowhere the thought of not being in these walls made me all emotional. Overwhelmed. Leaky. After so much waiting and working to move, suddenly it was time and I wasn't sure if I'd crossed everything off the list.
We get this way with life events and transitions. Am I ready? Did I do everything I was supposed to? Do we have everything we need?
I berated myself because it's just walls, floors, and air, and I'm not sentimental. But it's also memories, and more than that – it's a milestone.
Because what we really mean when we ask all those questions is, Does this mean I passed the test?
This was the place we brought four kids home to. This was the place we learned to fight for healing in the midst of black brokenness. This is the place we got our war wounds, where we learned about friendly fire and mutiny, and about brotherhood and who we bury the body with. It's where we learned that fear dreads the curveball, but faith knows God will catch it.
This was our battleground.
Just air, and space, and walls, and floors. But the Breath of God moved in this place.
The morning of the day we moved, I prepped dinner in the old kitchen so it would be easier to make in the new kitchen that night. As I chopped veggies, this song was on repeat and my eyes started welling and stinging, I swear it was the onions – and I threw the kitchen window open to 17 degrees and prayed it wouldn't kill my aloe plant before we moved it to the new house.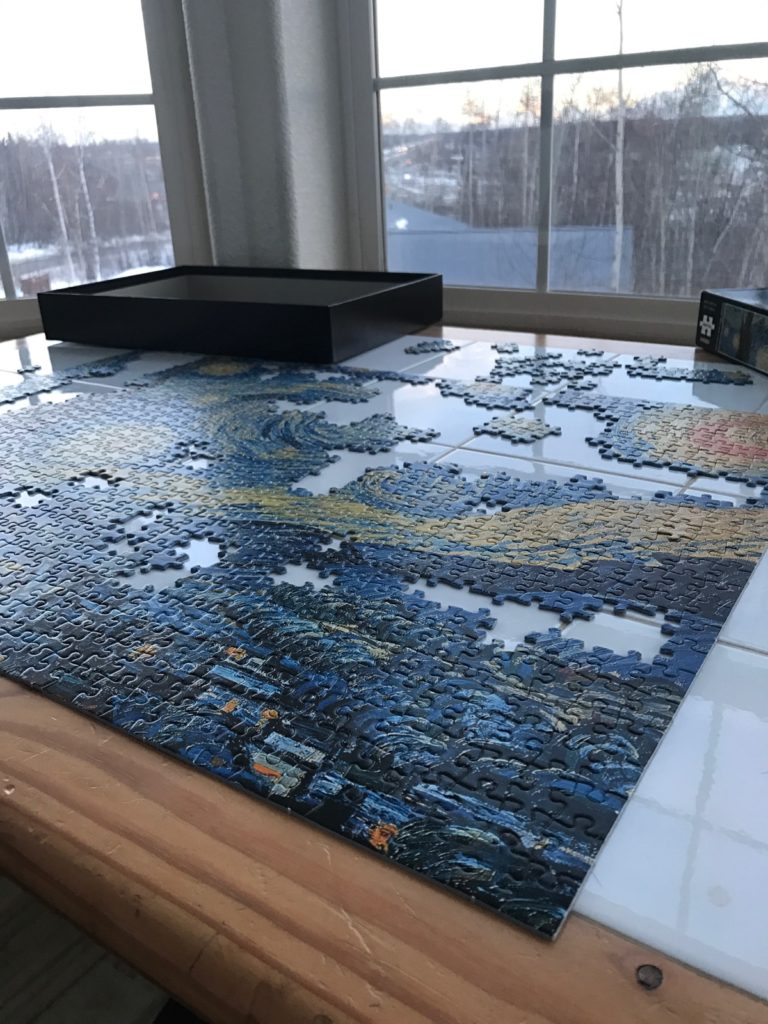 We ran out of time to finish the puzzle and in disgust resorted to breaking it into chunks to pack in its original box. It was a sorry mess when I opened it again; the edges of every section had crumbled in the transfer and loose pieces that I'm certain had been fixed in place were everywhere.
This is ironic, I thought. You think you're putting something together, and this is what happens.
But we'd already learned that starting over is not the same as going back to the beginning. Sometimes it moves the starting line forward. Sometimes it means the tether has snapped, and a gust of wind fills the sails to send you where you needed to go.
He who walks righteously and speaks uprightly,

who despises the gain of oppressions,

who shakes his hands, lest they hold a bribe,

who stops his ears from hearing of bloodshed

and shuts his eyes from looking on evil,

he will dwell on the heights;

his place of defense will be the fortresses of rocks;

his bread will be given him;

his water will be sure.

– Isaiah 33:15-16, ESV
And that is where we are right now. In between, if you missed the newsletter, we're renting a beautiful place from a friend while we wait for the next direction.
We're on a bluff and the views are incredible; we can see for miles and pray over the highway in both directions. Our kids have room, our books have shelves, and after three tries, we even figured out where to put the catbox.
It's a lighthouse for us, a temporary refuge to recuperate and rehabilitate after so many years in choppy waters.
Know your own happiness. You want nothing but patience – or give it a more fascinating name, call it hope.

– Jane Austen, Sense and Sensibility
It's not where we thought we'd be, not where we planned to be. We're not sure how long we'll be here.
And now that we're looking back, we can see that that's been the story of our last couple years. Except before, we thought we knew what we were doing, and now we know that we don't…and we're okay with that.
We've made port in safe harbor. He is the anchorage. We'll rest until He moves us again.