Not sure if it's denial or just complete rebellion, but we broke out a 1000-piece puzzle to work on for Christmas, even though we're moving in a few weeks.
And, friends, this is not your normal puzzle. No, no, this is Van Gogh's Starry Night, a thousand pieces of beautiful insanity requiring a magnifying glass, good lighting, and (probably) an inordinate amount of sheer stubbornness.
So, I'm in.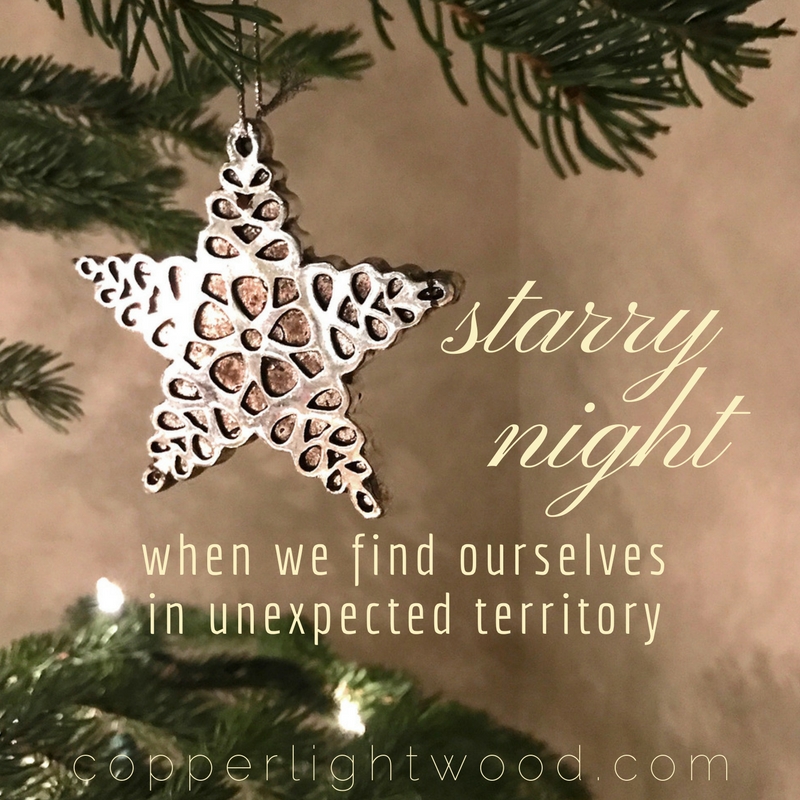 Up close, Starry Night has trillions of faint lines that look like bones – a tibia here, a broken fibula there – and the subtlest shades of color make the light seem to fall against blue-black darkness. It has scratchy marks you'd never notice until looking intently at a magnified thousandth of it. None of the pieces give any indication what the big picture looks like.
We're making slow progress on it while procrastinating through more responsible moving and house-selling duties. The last time we worked on puzzles was when I was pregnant with Finnegan, and I could justify slowness and rest with the contractions of early labor and all the other discomfort of late pregnancy. And in a way, we're right here again – we've been pregnant for months, bursting at the seams in this house we're overflowing out of, and restless for this new season, new structure, new routines.
We've been in labor for this move for a long time. Years.
We thought we wouldn't be here this year. Actually, two years ago we thought we were spending our last Christmas here, and last year we were absolutely certain we would be living somewhere else by now.
But we're still here. It's a "finally suddenly" feeling; it seems too fast after all the slow waiting, and I want to hold on to certain pieces while flinging others into oblivion. It all melds together though. Just like days, years, memories, brushstrokes – they refuse to sort cleanly; they bleed into each other.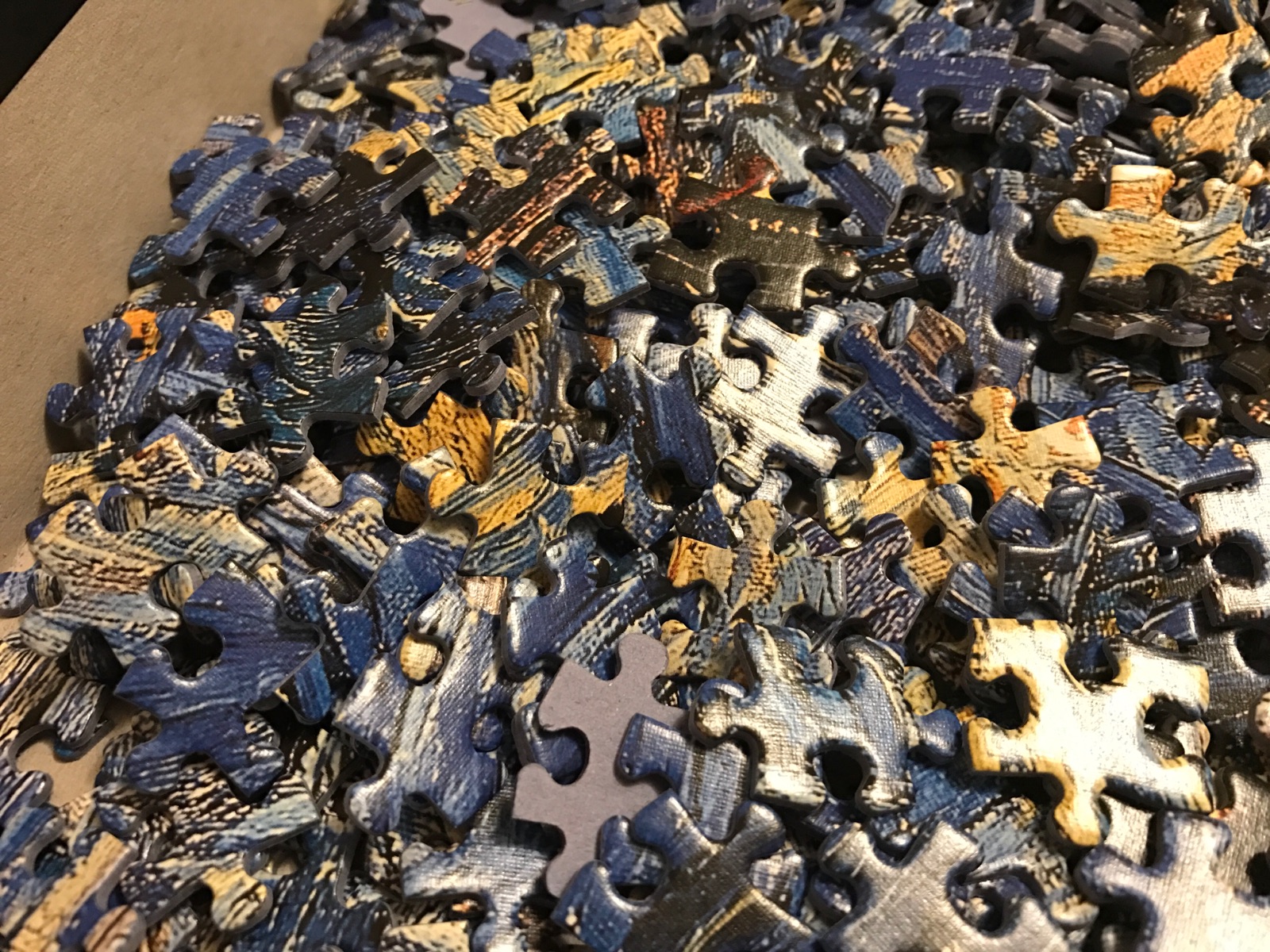 We are hip-deep in selling the house – repairs, paperwork, phone calls, oh my – and since it's December, we're also up to our ears in gatherings and festivities. Texts about scheduling and signatures come in rapid fire, and my phone sounds like it's dinging "Carol of the Bells" on just one note.
We strive for margin, and in our striving sometimes we lose more white space. We imagine life to look a certain way, and it violently veers an entirely different direction.
I need to stop for a minute, slow down, and put a few of these pieces together; get some perspective.
I turned 41 last week.
(This is a good time to mention that last summer, Chamberlain asked what scallops were – lines, not shellfish – and I told her they were sort of like waves, and pointed to a nearby wooden crate with scalloped edges as an example. "Oh, like those?" she asked. "Those are scallops?" She was pointing to the wrinkles on my forehead.)
I'm 41 now, and we're moving, and none of this looks the way I thought it would. We have a back-up plan to rent from a generous friend, but we haven't found the right house to purchase, we don't know exactly where we're going, and we're not really sure what we're doing.
I'm not really sure what God's doing with us.
But I've been looking way too closely at one or two pieces of this, and they are only thousandths of the picture. I know He sees the whole picture. I know He has a thousand reasons for having us where we are. But not knowing what those reasons are, or where He is sending us, or what He is doing, is hard.
I told a friend that this not knowing is doing many of the same things to me that fasting does – it brings up the dross, the hard questions, and tests my willingness to receive hard answers.
It also tests my ability to trust Him for good answers.
He and I have been talking about it a lot (a lot) lately. I've asked Him over and over, and He keeps saying, It's a surprise, Love.
I've mouthed off something about not liking surprises and He hasn't stricken me down. I'm the one who finds presents early, shakes them and squeezes them, and hides them in new places just to be a stinker.
Sheer stubbornness. See, told you.
But the season feels off, unfamiliar – it's not the way it's supposed to be. It's not what we envisioned. We don't picture the cramped house, people overflowing out of bedrooms, the special needs that interrupt daily interaction and normal activities, and children losing years to poor choices and mental illness. I talked to a woman recently who is also struggling through this season, wanting life to be the way it is supposed to be, instead of revolving around her husband's addiction.
It's not the way it's supposed to be, because we never envision the angry, distant family member, or the job loss, or the person who's always been there but suddenly isn't because death took them too early.
None of it is what we expected, dreamed of, or asked for.
He meets us in the mess we are in, whether the mess is from our own choices, or the choices of someone else, or because He has a surprise in store to teach us that we're not in control.
He's telling me that when you find yourself where you never thought you'd be, He's positioning you for something you never could have planned.
On that starry night, Mary probably never imagined her first experience of childbirth and motherhood would occur in unfamiliarity, in a barn, in the dirt.
Maybe Jesus was born where He was because we needed to know it is okay for things to not look the way they're supposed to. Maybe it was so we'd know we have a King who doesn't fit the mold. Maybe it was a thousand different reasons.
Maybe one of the reasons is to show us that our expectations and plans fall short. Maybe we would settle for mediocrity when we were made for more.
…. The rest of his days he spent…wondering and pondering why he had not found a way to the East. He blamed the unknown continent that barred his way. It never occurred to him to be grateful that the unknown American continent had been in his way. Otherwise he and his men would have starved to death on the endless way to Asia.

For the world was three times as wide around as Columbus had believed.

– Ingri and Edgar D'Aulaire,  Columbus
Maybe we dream too small, too stubborn.
Now to Him who is able to do far more abundantly than all that we ask or think, according to the power at work within us, to Him be glory in the church and in Christ Jesus throughout all generations, forever and ever. Amen.

– Ephesians 3:20-21, ESV
Saul the Pharisee never dreamed of becoming Paul the Evangelist. Peter, as a young fisherman, never imagined growing up to be the Rock the church would be built on. Columbus never planned on discovering America. John Adams, Abraham Lincoln – neither of them had any idea as children that they would be presidents who would direct and define our nation's history.
And until the angel told her, Mary never imagined being the mother of the Messiah.
But when her plans were changed she gave the sacrifice of praise. Mary sang her magnificat though she never imagined being pregnant and unwed, shunned and suspected by society for the rest of her life. When she was engaged to Joseph, she didn't think her wedding would be compromised by pregnancy and scandal.
All through history, none of the great figures and heroes had any idea what the big picture of their life would look like. They only saw a thousandth of it at a time, like you and me.
Except for Jesus. He was the only one who knew what He was getting into – way beyond inconvenience and into the depths of messy humanity. That's where He chose to meet us.
And He is still meeting us here, right now, wherever we go.
__________
The newsletter comes out next week! Sign up here if you need to.