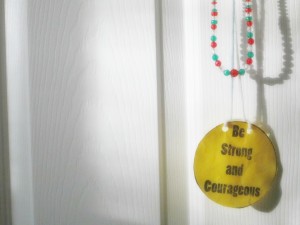 Every night for several days I sat down here at the computer and worked on a project – an important one, with a deadline that was not my own. Then one night when it was about half-finished, I sat down to work on it some more…and couldn't find it.
I did what any of us might when missing a half-completed work in progress due in less than two weeks.
I panicked.
The right file was open, and I kept skimming all the documents, checking every row and column of titles, but it wasn't there. I started to feel this growing alarm rise in my gut.
Oh, no. Did I delete it on accident? Did the cat walk across the keyboard and lose it? Did I inadvertently click and drag it to some obscure file that I never look at, never to be seen again? What have I done? This is awful..! I imagined myself re-writing it, asking for an extension, and using a sledgehammer on an innocent laptop.
And suddenly everything seemed to come back into focus, and it was right there. It was there all along. I just hadn't recognized the new title I gave it the night before.
That same week my husband lost his wedding ring. It wasn't catastrophic – it was just a cheap replacement after the original one had to be cut off several years ago when he broke his finger. Chamberlain, however, was very concerned.
"But Mom!" she wailed. "If he doesn't wear his ring, peoples is gonna try to marry him!"
Yesterday morning she found the ring in the bathroom, by a stack of towels, saving us from impending hordes of "peoples" lined up and down our street trying to marry her daddy. He immediately rewarded her with a handful of chocolate chips.
But before that, we had one day without running water, another day when the alternator on the new vehicle went out, and another day when my beloved Sophie-cat had a seizure and we thought she was dying. Just in the last two weeks.
Sorry for the blogging hiatus. Life happens here.
I know it happens where you are, too: Emergency room visits, travel, family issues, a big move, broken bones, broken hearts, and storms (both weather and otherwise) that bring unexpected aftermath.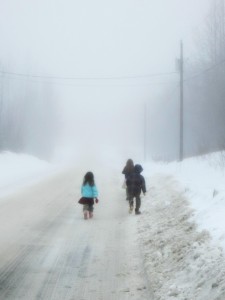 For us, all of this came just a couple of months after ringing in the New Year with the flu, breaking a tooth, and rolling our truck off the highway in freezing rain.
Exciting times. February so far has been my favorite month this year, and that probably has something to do with the fact that it only had 28 days to misbehave itself.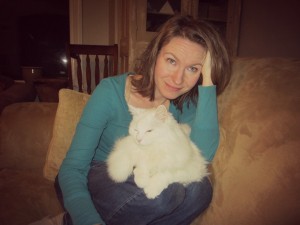 But He is there, all along, in the moments of growing alarm, when I'm afraid of losing it. In the middle of the night sleeplessness, in the prayer, in the chaos of everyday holding more than it feels like 24 hours rightfully should, He's right there telling us that there is nothing to fear. He's right there, waiting for me to focus so I can recognize Him.
Be strong and courageous. Do not be afraid or terrified because of them, for the Lord your God goes with you; he will never leave you nor forsake you.

Deuteronomy 31:6, NIV
In current events, in the headlines, in our family, in our uncertainty – as we are pursuing Him, He is positioning us and the events around us into specific alignment and formation.
He has not misplaced us. He is preparing us.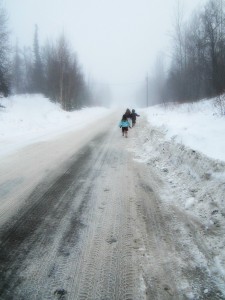 Every historical notable, every Biblical figure, every literary hero had a point when it felt like things were crashing down. When things were not working out, and going downhill fast. They felt like they'd blown it.
In literature it's called climax, but in reality it has nothing to do with a literary formula. It is that people who lead quiet, conventional, cozy lives never changed history. No one writes books about people who lived in mediocre normalcy.
Have I not commanded you? Be strong and courageous. Do not be afraid; do not be discouraged, for the Lord your God will be with you wherever you go.

Joshua 1:9 NIV
Fear is replaced with a determination – grim, if necessary – that we are here, in this time, for a strategic purpose. That purpose is to be met, not run from and feared. We must recognize it, even if it's called a name that we had forgotten. Even if it takes us to a place we didn't expect. He's bringing things into focus to show us that He has been here all along.
Plow forward. Lean in, steady on.
He's putting us in our place…and it's a good one. It's a position of influence, of strategy, and of impact.
We're not lost. We're not losing it. We are leading.