Upside Down is available in its entirety – complete, revised, and expanded –  through Amazon, Barnes & Noble, and WestBow Press.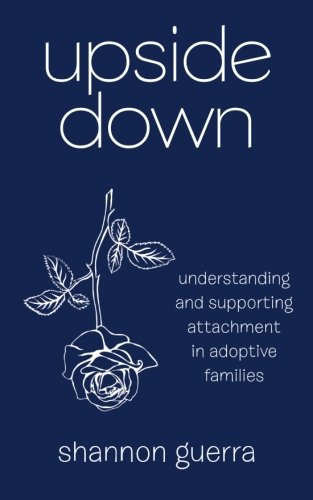 Our kids – most of them – love to be carried upside down to bed. There's squealing and shrieking and giggling as Vince grabs them by the legs and swings them upside down, hauling them up the stairs and flinging them into their beds. Alas, he doesn't do this with our 13 year old anymore.
After a hard day, after months of hard days, Andrey had pushed us away all day – he does it, mostly, by pushing himself away from us – and Vince picked him up before bedtime. Held him by the stairs. Hugged him, smiled at him. Got a little smile out of him, too. Bounced him a little, for the beginnings of a giggle. And then…
He started to swing him upside down.
Andrey screamed bloody murder, terrified.
Vin picked him up again and held him. Andrey did not trust that he would not drop him on his head, and I suspect the glimmer of a guilty conscience recognized that his behavior might have made it somewhat tempting to do so.
This trust issue is a biggie, and we've gotten past several small things with Andrey and Reagan….terrified screams don't spawn from high-fives anymore, Duck-Duck-Goose is tolerable, and ecstatic shouts of "SLUG BUG WHITE!" followed by friendly jabs no longer initiate traumatic cowering and tears.
They still don't wrestle with Daddy and the other kids. The grey area between rough housing and violence is too shady for them to know they're safe. 
After 19 months in our family, they still need convincing about safety, love, and trust. I wonder if they start to believe it sometimes but get scared, and push us away. They've known rejection and abandonment, and they test with every broken tool they've got to see if we will reject and abandon them again.
Will you really care for me? Even when I push you away?  Even if I repulse you, are you really for real? If I persist in self-destruct mode, will you really stay, for good, forever?
No one has before. You can't really love me. Surely. 
But we do.
They have great value. They need to believe it, though.
They've been home for nineteen months, but they were in institutions for more than eighty months. In those first, most formative three years, Andrey was in the institution that has become infamous, and somehow lived.  His behavior tells the story for him.
Often, he or Reagan – or both at the same time, which is so awesome, almost like having a double root canal without anesthesia – still refuse to participate in basic family routines. They don't trust them, or they want to be in control. Or sometimes, they're dealing with fallout from interaction with other adults, which confuses them because they've never known family or forever before…and they're still in the process of being convinced that we are family, forever. Their interaction with other adults is as limited as possible to help the convincing. It feels upside down for all of us.
Hello, welcome to Copperlight Wood. I will be your Mommy for the next several millennia, until the cows come home. This is for good, forever.
We all need convincing at some point. The Creator of the world turned everything upside down to show us we were valuable, cared for, and loved – His own children, for good, forever – and the Savior let Himself be shattered to save the broken.
But for some of us, it takes a long time to believe it. We don't trust Him, we want to be in control, and we're confused.
Will you really care for me? Even when I push you away?  Even if I repulse you, are you really for real? If I persist in self-destruct mode, will you really stay for good, forever?
No one has before. You can't really love me. Surely. 
But He does.
He's teaching us how to love like He does, and it's the most refining, sanctifying process I've ever experienced.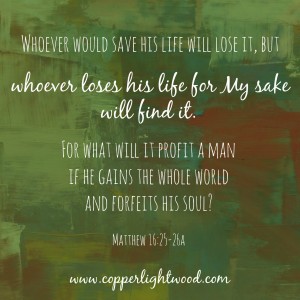 Over the next month or so, I'll be sharing more about this upside-down-ness as a resource for adoptive families to know that they are not alone in what often feels like a very lonely journey – not as an expert, but as an adoptive mama in the trenches and learning with you, with a lot of help from other adoptive families who have been kind enough to contribute their own experiences.
There will be links with resources.  There will be ideas for communicating about these oh-so-special needs with others in your community. You can share it with friends and family so they can understand what they need to in order to walk beside you in a more supportive way.
There will be comforting camaraderie, and only as much sarcasm as is absolutely necessary. 
____
If you'd like to subscribe to get posts right in your inbox, you can do so at this link. Thanks!