After two years of feeding a family of eight in Alaska, we've finally entered the fellowship of a bulk food co-op, which means we only have to buy oatmeal every few months instead of every few weeks. It also means that our laundry room is overtaken with an enormous load of dry goods until we figure out what to do with it all: corn masa, dried split peas, cocoa, vanilla beans, hot cereal, black beans…and a 50-pound sack of oatmeal that's only a little smaller than a toddler bed. We'd be ready for a siege if our coffee pot wasn't still on the blink.
We should have joined years ago; I'm not sure why it took us so long. After a while, we'd heard so many endorsements from friends that we couldn't ignore it anymore. I don't usually think of myself as a follower, but when a trusted friend tells me where to go to buy tea and gourmet popcorn at a fraction of the store price, I'm happy to let them lead me.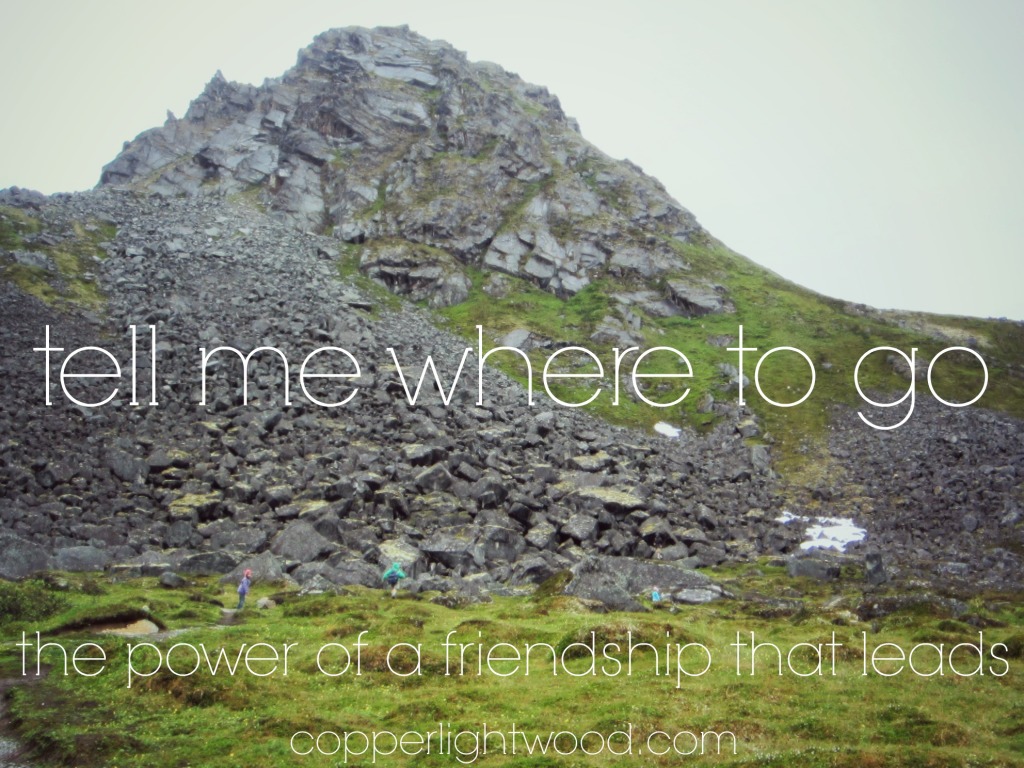 One of these dear friends called today and we caught up on each other's news, and talked about big and little things between interruptions from kiddos. We talked about puppies (hers), and kittens (ours), and paws the size of snowshoes. We commiserated over the follies of letting our children play with glitter (one of us has kids that actually had a glitter fight, and I won't name any names, but it wasn't my kids). We talked church and missions, and plans and weekends and prayer requests. We talked about questions we have for the future…about answers we're waiting for, and about wanting those answers, as long as we get to pick and choose what they are.
And she stopped me, and prayed right then. She was telling me where to go again, and it was exactly what I needed.
Then Joshua rose early in the morning and they set out from Shittim. And they came to the Jordan, he and all the people of Israel, and lodged there before they passed over. At the end of three days the officers went through the camp and commanded the people, "As soon as you see the ark of the covenant of the Lord your God being carried by the Levitical priests, then you shall set out from your place and follow it.

– Joshua 3:1-3
Sometimes our obedience and boldness is the sign God has placed for someone else to see. At such a time as this, our willingness may be what they are watching for.
For the Lord your God dried up the waters of the Jordan for you until you passed over, as the Lord your God did to the Red Sea, which he dried up for us until we passed over, so that all the peoples of the earth may know that the hand of the Lord is mighty, that you may fear the Lord your God forever."

– Joshua 4:23-24
Friendship rooted in prayer is a powerful force to be reckoned with. The enemy takes notice, and shrinks back:
As soon as all the kings of the Amorites who were beyond the Jordan to the west, and all the kings of the Canaanites who were by the sea, heard that the Lord had dried up the waters of the Jordan for the people of Israel until they had crossed over, their hearts melted and there was no longer any spirit in them because of the people of Israel.

– Joshua 5:1
And this friend and I…when we met over ten years ago, I was her leader – but as the years have passed and our friendship has grown, we've taken turns leading and guiding and counseling. It's a beautiful back-and-forth, as two leaders listen and learn from each other's influence.
Here's what I'm praying tonight: for our friends – those we have already, and those who are yet to be.
We always thank God, the Father of our Lord Jesus Christ, when we pray for you, since we heard of your faith in Christ Jesus and of the love that you have for all the saints.

And so, from the day we heard, we have not ceased to pray for you, asking that you may be filled with the knowledge of His will in all spiritual wisdom and understanding, so as to walk in a manner worthy of the Lord, fully pleasing to him, bearing fruit in every good work and increasing in the knowledge of God. May you be strengthened with all power, according to His glorious might, for all endurance and patience with joy, giving thanks to the Father, who has qualified you to share in the inheritance of the saints in light.

– Colossians 1:3-4, 9-12
These friends, they're the ones we go to battle with. They're also the ones we go to battle for. And if you find one who understands why you get heart palpitations over glitter, well…that one's a keeper.

This is day 17 of Without Ceasing: 31 Days of Relentless Prayer. Find the other posts here. To get new posts right in your inbox, subscribe here.