The wind, this wind. It shakes the house and bows the trees. Ground is blown bare and small snowdrifts press against the edge of the house. The windows creak and the vent above the stove rattles, and the wind whistles between trees and across our chimney tops.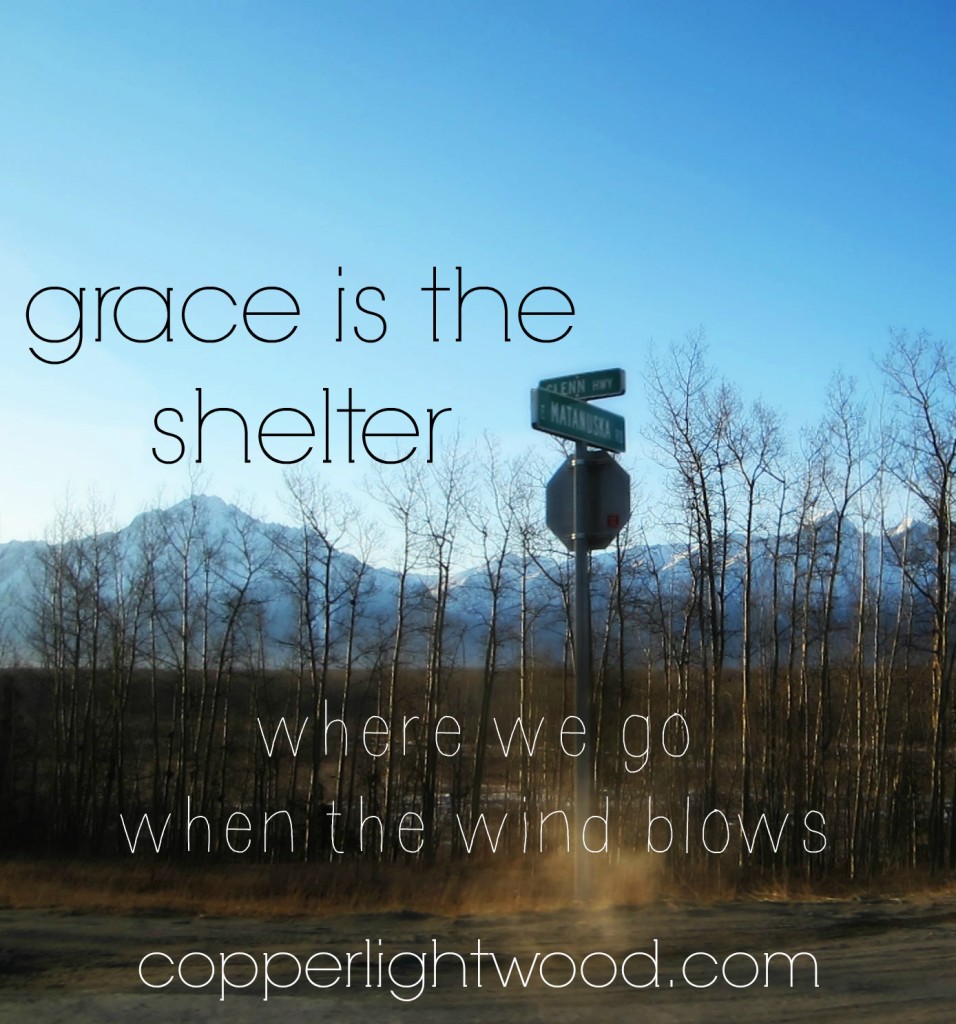 We try to be ready for power outages. We keep the laptops charged and the teapot full, and I've learned to use the threat of an outage to motivate the kids to clean up better before bedtime because no one wants to trip over toys or skid across books lying on the floor in the dark. In other states, these winds are recognized as hurricane force and mentioned on national news; here, schools are open and it's business as usual — you just hang on to your car door as you open it to make sure it's not ripped off the vehicle entirely. And you might want to drive a little slower on the highway, too, so you can get a good look at the semi truck that was blown on its side with its wheels in the air.
The wind keeps on for days and nights, and it's 75 miles an hour outside with flying debris and a wind chill of about minus fifteen. But inside, everything is still. Six kids, all asleep. Half as many cats, also asleep. The computer hums, the teapot ticks as it's heating, and between gusts there's a perfect calm.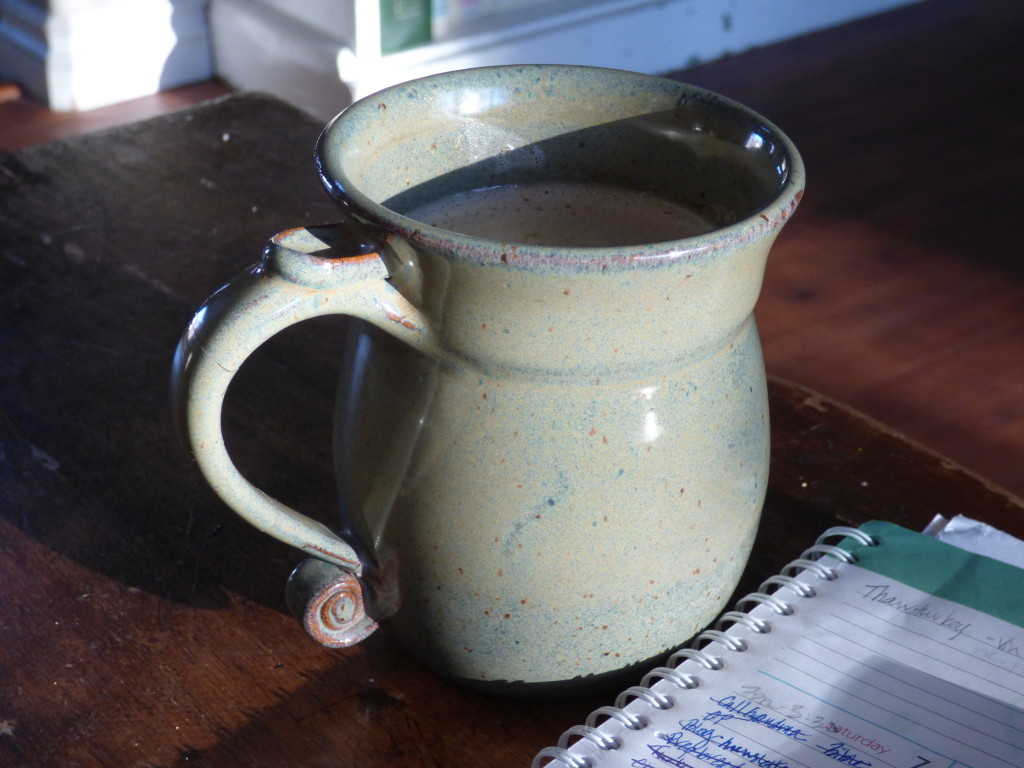 In the morning we check for fallen trees and there aren't any, though branches are everywhere like so much littered confetti. A couple of plastic grocery bags have flown in and attached themselves like windsocks to our trees, and across the street it looks like our neighbor has gained a shiny new trash can from probably three houses over.
We're getting together with friends in the evening, and if they weren't close friends — you know, the kind who are allowed to look for stuff in your fridge even though you didn't even clean it before they came over — I might squirm a little and apologize for the mess outside. Not that the weather is my fault, but it just looks so ugly out there. Even though I have no control over it, and their yard has seen the same wind and is probably in the same shape, it's not the first impression I'd want to make to anyone who's never been here before.
But I don't need to apologize, and they wouldn't expect it. We have seen each other's messes before. Marriage, special needs, dirty laundry, parenting kids unborn through adolescent. These are friends who are family, and we can let go of insecurities about the messes we can't control outside, and just focus on the messes we can control inside — vacuuming, cleaning toilets, washing the dishes. Well, the dishes, I dunno…that might be asking too much.
There's a turkey in the oven and stuffing on the counter, a green bean casserole in progress and pie crust to be made. It's Thanksgiving at the end of winter; it's February and we're still thankful.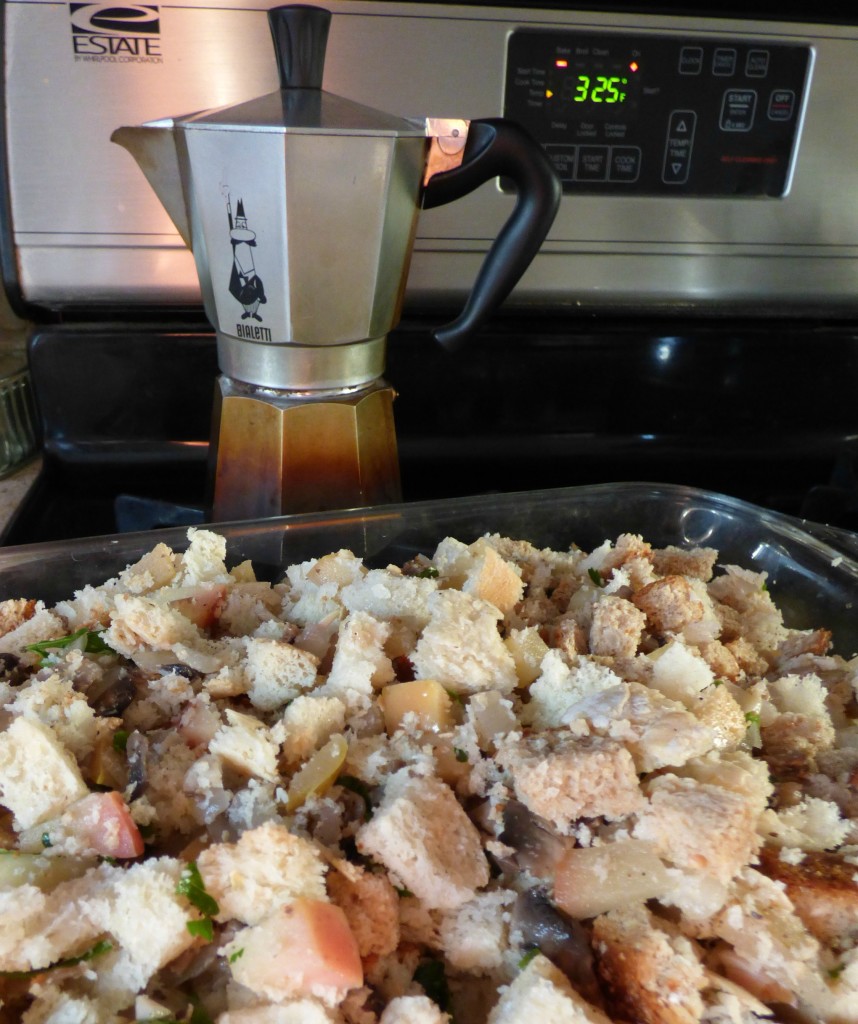 Whipped cream is melting into late morning coffee and sweet potatoes are peeled and ready to boil. We send one kid to throw out compost and send another kid to timeout for throwing a temper tantrum. I make a note to ask my friend about different therapists and pick her brain about various issues we're both facing. Because sometimes we can't control the messes inside the house, either.
I've ruined gravy the last four times I've made it — too thin, boiled too long, not enough cornstarch in the world to redeem it — and our friends arrive right at that crucial juncture of constant stirring and watching for the first bubbles. I pass the task to a child with explicit instructions to only let it boil for one minute and then turn off the heat, and then run to greet friends at the door. I get halfway there and realize that child is right behind me — I stop, turn both of us around, and remind him of his task. For the love of gravy, watch this, stir it, and don't let it boil for more than a minute. I'll be right back andyouneedtostayhere. Double-back again to run to the door, hug, welcome, make a pile of jackets in the corner, laugh, go back to the kitchen.
And that kid has pawned off the gravy (sans instructions) to Vince, who is stirring away at what has obviously been boiling hard for a little less than three minutes and is destined to remain the consistency of half-and-half. So help me.
The house is full and a dozen kids will crowd around our table, but before we even got that far our friends asked me about the book I saved for them — that little book that is supposed to be about adoption and boundaries but is actually mostly about grace and shelter; the little book that was birthed here and grew through its childhood and adolescence and is now a big kid, not quite grown up yet but still launching off into the world of Amazon and reviews and grown-up real-bookishness (but yes, still a free PDF download here for you readers).
And these friends whom we've shared messes with, who have been in the trenches far longer than we have, who showed us grace when we didn't even know we needed it — these friends, we saved the first copy for them. And if I had been thinking correctly during the formatting stage (but wasn't, because, oh, the morning sickness), there would have been a dedication page, and it would have said what I scribbled to them on the inside cover:
To Cody and Sara: You have long been our heroes.
And I would have added: And to Larry and Sharon, who were wise and crazy enough to introduce such humble troublemakers to us.
And now it is days later. The wind has subsided and the leftovers are pretty much gone. We have a new box of books that are shipping out all over the country in the next week. The ground outside is still a mess, and there are still messes inside, too, and I'm not just talking about the dishes…but it makes all the difference to know we are not alone. These kids, those issues, that grief, the big decision. The house shakes and the ground is blown bare, and we can still throw the door wide open. In all those storms, you are not alone. We shelter each other with grace.