Adoptive and foster families, this is for you.
You, who went through all the training, requirements, meetings, interviews, and red tape. It was crazy-thorough. Then you brought your child home.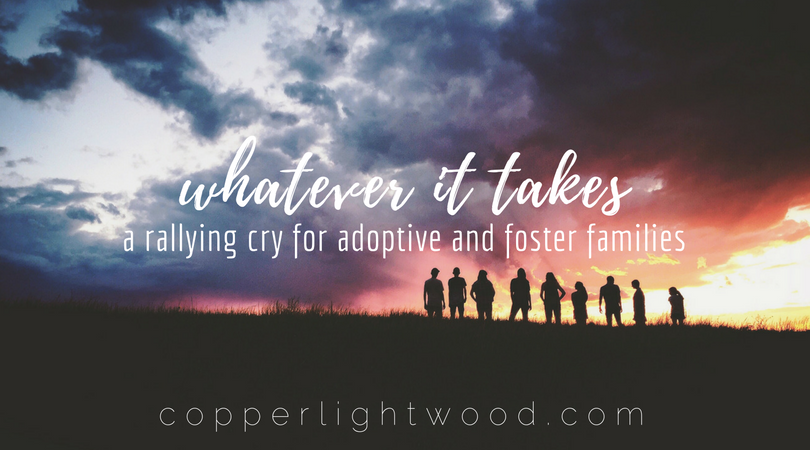 And you learned that all that preparation was kind of like going through earthquake survival drills – learning first aid, how to take cover, how to evacuate safely – versus actually living through an 8-point earthquake. It was like the difference between learning CPR versus actually having to administer it on someone who has no pulse.
Some of our kids came to us carrying grief and trauma equivalent to that 8-point earthquake.
And we love them. But it's hard because they are hurting, and hurting people hurt other people, and we are here to do everything possible to break that cycle.
But some days we don't know what to do with them. There your kid is, doing that same behavior that's driving you both crazy: Rages. Lying. Something unmentionable involving bodily fluids. And yep, we love them, but they don't always believe it so they test our love. Sometimes they push back hard. These attachment issues are no joke, friend.
Some days we pray and do one thing, and the next day we pray and feel like we need to try something else. We've learned to live in grace on a moment-to-moment basis.
I know your house used to be your sanctuary, but now, some days it feels like a warzone. The atmosphere's changed and you barely recognize it: tense, palpable, high-alert, heavy. Sometimes you feel the weight and pressure of it in your gut. You've learned that you need God's wisdom and presence in every moment, too.
And I know it may not feel like it anymore, but this is still your turf. Your territory. The spiritual attack is real but you own this space. You are the boss here. And as much as their behavior might contribute to the chaos, your kids need you to fight for dominion.
Don't lose yourself, friend. Your kids need you to still be you – and they need you to find them in the darkness. There's a uniquely brilliant person in there behind all the trauma and behaviors who is dying to get out and be known.
And there's a real you in here, too. You may feel like you lost yourself somewhere between the airport and the millions of appointments, but you are becoming refined. Strong. Whole, and more you than you've ever been before. You didn't think you could be this tough, did you? You had no idea you'd be able to do all this. And here you are. This is you, doing all the stuff.
I hear your excuses; I've said them to myself plenty of times, too. I know you don't feel like you're enough. You don't feel like you're getting enough done, getting enough sleep, getting enough exercise, giving enough smiles, giving enough hugs to those kids. But those feelings aren't the boss of you. They don't change reality.
You are enough. You're doing enough. God is enough to cover you in this time as you're seeking Him, trying to shine light in darkness and find truth in trauma.
You've spent hours making phone calls, researching, getting references, making appointments, sitting in those appointments, wondering if this intervention is going to work for your child. Wondering if this professional is going to help your child, or if they're going to do more harm than good.
You've missed some friends and social activities because things are different now. You wonder before every engagement if it's going to be worth the effort, or if all the hoopla will evoke too much aftermath. We used to take for granted how easy it used to be, back when we never worried about overstimulation, hypervigilance with boundaries, and attachment issues.
You are the families who've been not just willing to go to the broken and hurting, but you've welcomed them into your own homes.
You are on the frontlines. And the church will see significant, exponential victory to the extent that it cares for those on the frontlines.
You've given everything you've got for the advancement of the Kingdom, and you're giving people a vivid picture of how much God loves them. You are showing God's heart for humanity – the same Spirit of adoption that He showed us.
In pockets around the world, the church is waking up to the power lying dormant in adoptive and foster families. The church is realizing that assumptions and lack of awareness about what these families endure have hindered not only the healing of the broken, but the growth of the Kingdom.
And there is a contingent of humble, repenting congregations rising up to do whatever it takes to support those who have already been doing whatever it takes – and in some cases, it's taken everything – to walk out the spirit of adoption.
These teams – those who directly care for the broken, and those who support them in it – are unstoppable. They are mighty, gritty, capable of exploits, and not afraid to play hardball with darkness.
They are changing nations and generations. Together, they are living out a message that the world cannot ignore.
So you, my friends, are rocking this. Keep pushing through, and do whatever it takes to get some rest. To get some space. To find the you that you recognize again.
Because you're in there, and you're powerful. You're changing the very nations with your daily steps to love your family and maintain dominion in your sanctuary.