It's a really good thing you read yesterday's post, because there might have been a remote (very remote) possibility that someone stumbling along this blog thought that a family with six kids, three cats, and special needs maintain a perfectly clean house and never spill coffee. And homeschool. And ride an exotic purple hippo to the grocery store every week.
(Which is just silly, because everyone knows we drive a Stagecoach. Really.)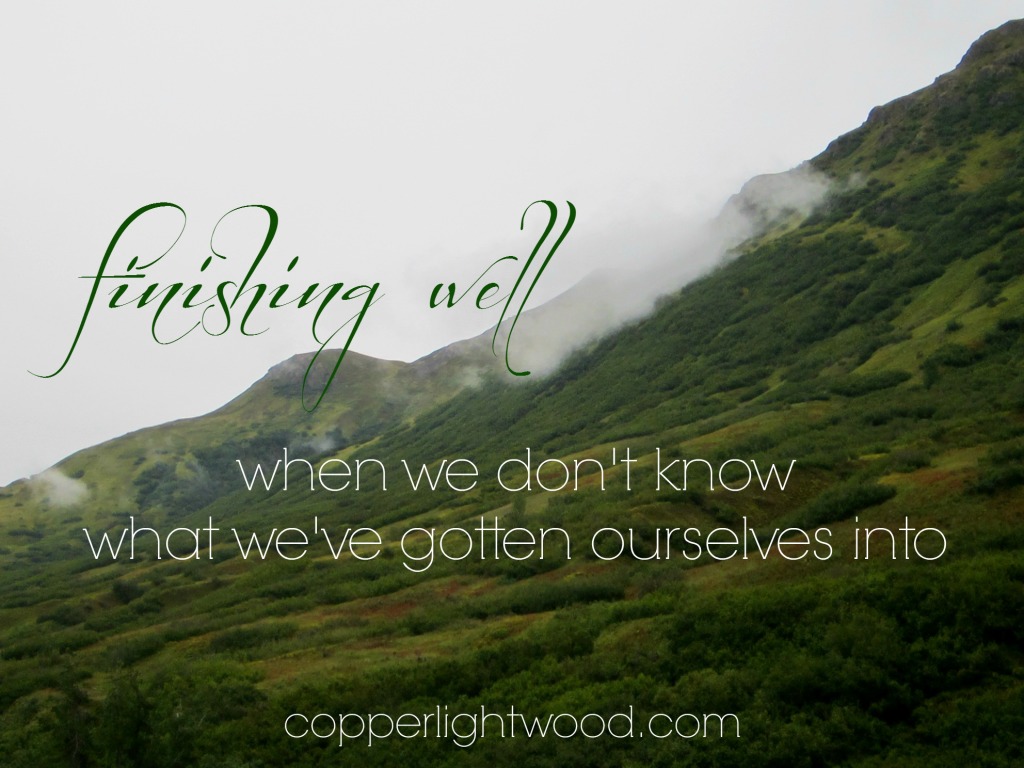 But in case anyone still thinks this is a meticulously-run tight ship, let me share an example of how the boys' room chore goes:
Me: "Did you clean under your bed?"
Boy: "Yes…well, I don't remember. I think so."
This is a sure sign that the actual answer is no.
We go check. A pile of miscellanea in the middle of the floor has already been retrieved, but I crouch down to peek into that dark underworld under the bed, and can clearly see that there is more in there still needing to be rescued.
I look back at the pile of stuff, and ask, "What are you going to do with all this?" Shirts, papers, books, a broken clothes hanger.
"I dunno where any of it goes, so I'm just gonna put it all in a baggie." Aha. Clever. But…
"The shirts?"
"Well, I'll hang those."
I'm picking through, finding broken pens and dowel rods. Note to self: hide favorite pens, stop letting boys have dowel rods in their room.
"All this stuff isn't going to fit in a baggie. You're going to have to put it away in the right places."
"I have extra baggies."
Of course. Perfect solution. Note to self: stop giving baggies to Afton.
It took several attempts in fits and starts, one step at a time, but he finally put everything away in the right places. It's supposed to be a weekly chore, but he'd been taking a bi-monthly approach to it, and the job was bigger than he expected.
Sometimes you know exactly what you're getting into…but most of the time we don't. The unexpected often happens: the cost is higher, the wait is longer, the deadline is shorter, or the assignment is messier.
He soon found that the thicket was closer and more tangled than it had appeared. There were no paths in the undergrowth, and they did not get on very fast. When they had struggled to the bottom of the bank, they found a stream running down from the hills behind in a deeply dug bed with steep slippery sides overhung with brambles. Most inconveniently it cut across the line they had chosen. They could not jump over it, nor indeed get across it at all without getting wed, scratched, and muddy. They halted, wondering what to do…

"Look!" he said, clutching Frodo by the arm. They all looked, and on the edge high above them they saw against the sky a horse standing. Beside it stooped a black figure.

They at once gave up any idea of going back.

– J.R.R. Tolkien, The Fellowship of the Ring
And it's okay – we don't have to know all the unexpected details. He knows. If He had told us, we might never have started in the first place — or quit halfway, just pigeonholing the unpleasant parts of the assignment into a baggie. But we weren't designed to be quitters, or those who shrink back.
And in this matter I give my judgment: this benefits you, who a year ago started not only to do this work but also to desire to do it. So now finish doing it as well, so that your readiness in desiring it may be matched by your completing it out of what you have. For if the readiness is there, it is acceptable according to what a person has, not according to what he does not have.

– 2 Corinthians 8:10-12
God, I'm praying tonight for those who are in the middle of a daunting task – they have to learn something new, do something hard, face the unexpected and costly – and I'm asking You to increase their courage and determination despite not knowing what's over the next hill. Show them a fresh vision of the greatness ahead so they will not be unnerved by the details in the way.
The Lord is at hand; do not be anxious about anything, but in everything by prayer and supplication with thanksgiving let your requests be made known to God. And the peace of God, which surpasses all understanding, will guard your hearts and your minds in Christ Jesus.

– Philippians 4:5b-7
When we crouch down to peek at the underworld, we can clearly see that there is still more to be recovered. Your calling, my calling, is crucial to the rescue operation, and we were made to finish it well. No quitting, no shrinking back, no baggies.

This is day 26 of Without Ceasing: 31 Days of Relentless Prayer. Find the other posts here. To get new posts right in your inbox, subscribe here.